sometime in december, i went to five below and found a two pack of sally hansen diamond strength no chip nail color for $2. it came with a clear polish and an orange-y, yellow shimmer polish.
i decided to do a mani in the "sunrise, sunset" color and i dont think im too crazy about how it looks next to my skin. i think this would suit somebody with a more natural tan or an olive skintone. anyways, here is how it turned out;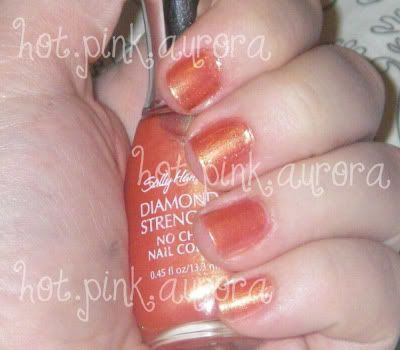 its bad enough that im naturally fair skinned, but in the dead of winter im damn near translucent! it really is a pretty color, its just a shame its not for me. i really love the formula though. three thin coats and it was mostly opaque; not entirely, but almost. its more watery than most polishes but i have a strong preference for runny over thick. it dried pretty quickly though. and i got to use my seche vite topcoat that i just bought. (i plan on doing a comparison between insta-dri and seche vite sometime in the near future)
i wanted to mask the hideousness that is "sunrise, sunset" and what better way to do that than konad :p i used plate m57, the zebra pattern with konad's special polish in black.
it definitely toned down the orange but i still dont think im too crazy about this mani all together. like i said, its not
ugly
, its just not for me. i suppose if youre in highschool and your mascot is the tiger, this would be purrfect for you.
speaking of kitties, my beautiful maine coon mutt of a cat was being super cute at the time of this manicure & i couldnt help snap a picture of her. although she wasnt looking at the camera for me, my friend kristi managed to get such a precious picture!
in true crazy cat lady fasion, her name is in fact athena, but we call her neener. and im pretty sure she loves it just the same (=