out of all of the brands of nail polish ive used thus far, china glaze is my favorite (=
is it still considered a haul if its from the internet? im not even sure if 6 polishes is considered a haul. i dont think it is, since i didnt have shoppers guilt after buying them LOL
the wonderful
nihrida
recommended a site for affordable polish,
http://head2toebeauty.com/
. let me just say i love this site now, i placed my order on sunday evening and received it by early wednesday! i really had to control myself because there are so many amazing colors out there, i eventually picked out six.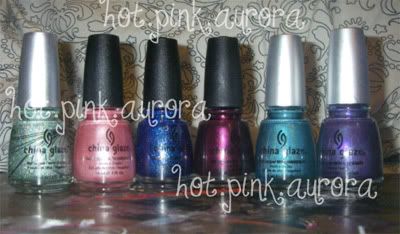 from left to right;
he's going in circles - kaleidoscope collection
good witch? - wizard of ahz collection
dorothy who? - wizard of ahz collection
cowgirl up - rodeo collection
DV8 - holo collection
LOL - holo collection
im absolutely crazy about dorothy who? i dont had a distinct fondness for blues OR glitters but i cannot wait to wear this one as a full mani. i was most excited about good witch? but its sooooo light against my skin )= i still love it though, and will wear it often. the rest of them were ones i saw swatches for and thought were pretty. im most disappointed with cowgirl up. i saw an amazing swatch (dont remember where) and it had all kinda of hues and dimensions to it, but when i put it on and looked at it under regular lighting and fluorescent lighting and daylight.. it was a freaking dark magenta-purple. im a pastel girl. i love bright and light cremes and colors. this isnt my bag, at all. i went out on the limb with it because i was sold by the swatch, but even with multiple coats it still fell short of my expectations - oh well.
they were $3 each, which is a deal in my book. shipping for 1 bottle is $9. shipping for 6$ bottles is 11. my total came to about $27 and some change - which $9 cheaper than if i had purchased them from a beauty supply store. i was excited with the saved money and the new colors and the additions to my collection, so really.. i cant complain!!
i took over 40 pictures of the sample above and i could not, by any means get a good shot. this is the pick of the crop which just emphasizes how sad my selection was lol. this photo doesnt do the colors justice. except cowgirl up, thats pretty much how it looks..