so ive been having some serious fun with a new hybrid i made. i know most people refer to them as frankens but ive taken a strong liking to calling them hybrids, so just bear with me! (=
i got my wisdom teeth out on thursday morning and had to take off my nail polish for the thing that monitors my heartrate (they were impacted so i need general anestesia). ive never felt so naked. when i came home i passed out for a good while and when i woke up, the first thing on my list was to repaint them. i decided to use one of the new hybrids i made. but i made it before i made my blog so i rigged up an image of the 3 polishes i used since i wasnt able to take a picture of it.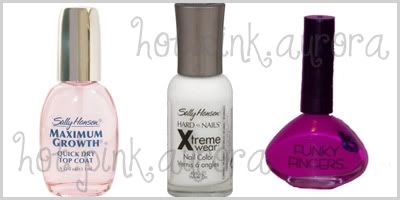 salley hansen "maxium growth quick dry topcoat"
sally hansen extreme wear in "white on"
funky fingers in "powerplay"
after using "white on" a couple of times i decided that it looks like i painted my nails with white out, so there was no problem parting with it. the topcoat was almost empty and a bit too goopy, and with most of the funky finger polishes, theyre a bit cheap and watered down. theyre streaky and require more coats than i have the patience for. so with those factors in mind, "lilac dreme" was born! i have an absolute love for pastels so i just added more white to tone it down. i didnt think id like it as much i do, so i really am thrilled! this is 3 coats by the way
since lighting is poor i tried to color adjust it to the truest possible. its more lilac than pink.
and as always, i cant leave well enough alone so i jazzed it up with some konad & nail art! i used konad white special nail polish
this is on konad image plate m57 and for the record i LOVE using it on my tips. i have a few other image plates that are intended for french tips but i cannot seem to get it down yet! oh well, practice makes perfect, right?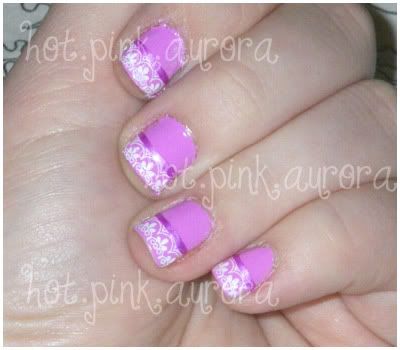 i added one more element to this mani with color clubs "orchistra" i think it all flows together nicely!