i must admit, its a little ambitious for my first real post to be a polish hybrid. i was inspired after spending over an hour on
dr. frankenpolish's blog
. some of my polishes become too gooey after a while and i have a bunch of topcoats with only a little left in them, so i figured i could throw some colors together and see what i got!
the first one i have turned out to be quite fun actually.
-funky fingers in volt
-l.a. colors topcoat
-sally hansen extreme wear in mellow yellow
i mixed the three polishes together until i achieved a color i thought to be unique. if i had to name it, it would be "pea souped up". clever, i know!
i applied 3 coats of this color. i did it in a bit of a rush so its a little sloppy, but its my first swatch so im not going to nitpick. it reminds me of orly's green apple except with more a more yellow hue. i probably wont ever really wear this, but instead of having 3 unusable colors, i have one thats functionable!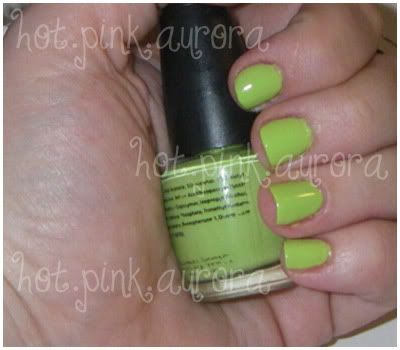 ps; i stole my dads camera to get decent pictures. i tried multiple times with mine but it was a definite no-go! i think ill be using his until i can get a new one :p