love love love the look of a french manicure. my toenails are 90% of the time done in french manicure style, since its so much easier for me to paint a straight line on my toes compared to my right hand. i have konad plates that are tips and of the french style but i havent been able to get them down.
anyways i was jonesing for one and decided to try taping off my nail to get a straight line. it worked mostly. i had to re-do a couple of them but i dont consider that too bad since this was my first time trying it. i used regular scotch tape. but i think that blue painters tape i used to use to tape off my canvas would work even better. here are the little soldiers i used: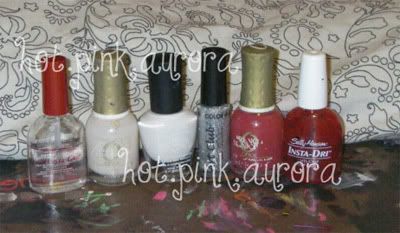 left to right; (and conveniently in the order i used them)
sally hansen insta-grip basecoat
orly french manicure "pink nude" (sounds dirty)
L.A. girl nail lacquer "french white"
art club fine silver glitter
orly french manicure "bare rose"
sally hansen insta-dri topcoat
if i could redo this, i would have put "bare rose" BEFORE "french white" because it actually tinted the french tip part of a my nail a little which i hadnt thought of until i was almost finished. my bad.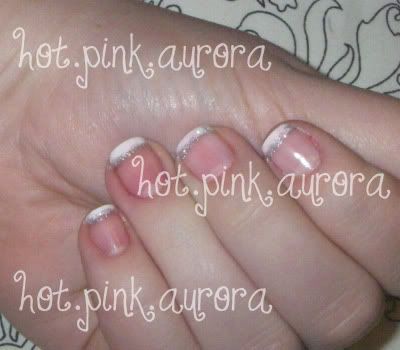 i love how it came out. i was happy with the results.. i think next time ill put the tape a bit lower and paint the silver with the help of the tape instead of free hand.