i went shopping! i went to the dollar tree and walgreens. i got 5 polishes and 5 nail art polishes from the dollar tree and 3 sparkly topcoats from walgreens on sale for $1.09 each! how exciting! my haul;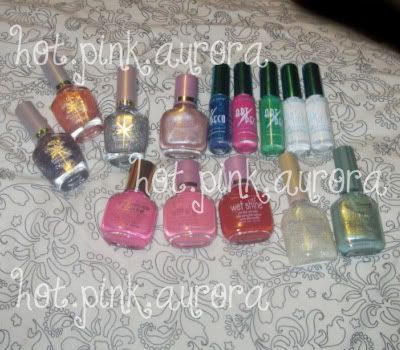 the three polishes i got from walgreens were absolutely stunning. theyre from the covergirl "boundless color" collection which i had never heard of, and were the last 3 left on the rack. im sure i wouldve bought one of each color given the opportunity. i really like the bottles and brushes too.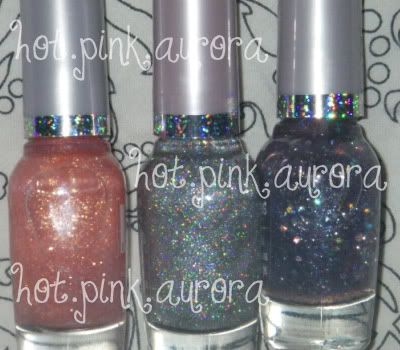 from right to left;
-pink twinkle. there is irregular flecks of foil inside this one.
-city lights. a holo topcoat (the little bits of holographic glitter are sparse compared to a typical holo polish)
-amethyst mist. a purple jelly base with hexagon multicolor glitter & teeny tiny bits of glitter as well.
theyre so beautiful and the application is wonderful. i dont have _that_ many drugstore polishes that i actually use but i will definitely be employing these 3 lovelies (=
-----
in other news, i tried my first marbling last night! i cant say i was too happy with the outcome. in fact, i removed it right after taking the pictures. here is a few things i learned;
-petroleum jelly moves when you insert your finger in the water and often times ended up under polish resulting in a re-do
-aside from a base coat, a base color is needed to bring out the vibrancy of the marbled colors
-scotch tape works relatively well. i used one long piece for the sides and top of my nail, and then secured that piece with another piece of tape around the whole finger and that piece edged off the bottom of the nail.
-for some reason, i could not get 2 different holos to work together, but that just could be me.
-i cannot figure out how to avoid a large gap on my thumb; i retried over 5 times and had a large gap, in the same place, of uncolored nail each time - any advice?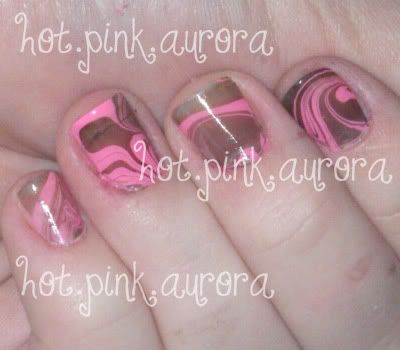 like i said before, i think a white underneath wouldve really made these colors pop. i used orly "liquid vinyl" and funky fingers "punch". the black came out mostly gray.. i wonder if it just isnt marbling compatible or it wouldve been brighter with white underneath. not TOO bad for my first attempt!
-----
my NOTD has got to be one of my new favorites. i used my new colors for this;
-sally hansen insta-grip base coat
-maybelline wet shine "pink splash"
-covergirl boundless color "pink twinkle"
-seche vite topcoat
the golden/pink flecks look so much cuter irl. i had a hard time capturing the color of the flecks and i tried all 20 different camera settings with different flashes.. the best ive found so far is the flower/soft flash option. i had some luck with the food/soft flash too. i think its because these are both meant to capture fine detail. without a doubt the worst setting was one for text, DARK, blurry and spotty. anyways, here it is;