LOVE valentines day themes and colors. hearts and pinks are so pretty, so i decided to do a valentines day-esque mani. im not sure if it hits the mark but it reminds me a bit of lingerie haha.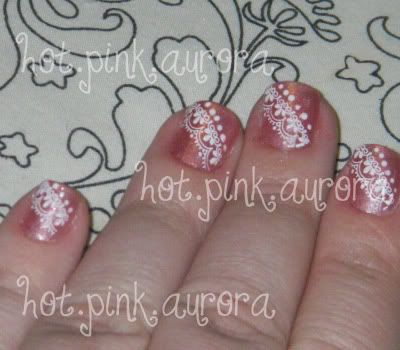 i didnt put a topcoat over the konad because it almost always smudges it. instead, i put a topcoat over the 3 coats of good witch? and konaded over it. im happy with the outcome, its not too dramatic but still feminine.
the materials, in the order they were used;
sally hansen diamond strength in clear
china glaze "good witch?"
sally hansen insta-dri topcoat
l.a. girl "french white" (works really well with konad!)
i also used konad plate m57 as well as my dotting/stippling tool.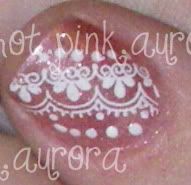 after i finished, i couldnt decide if 1 row of dots was enough. i added a second row of dots and im still on the fence about which i prefer! i was rushing and did the 2nd row a little sloppy. at least i didnt completely destroy my mani like i typically do with overkill!
---
on a side note, i had made a post last night about the haiti relief. i think i accidentally deleted it, or didnt save it properly or something because its gone. anyways it was just providing a link & encouraging people to make a small donation towards the haitian relief. the
salvation army
is a reputable charity, and my typical charity of choice. no pressure. i think the telethon style fundraiser will make a world of difference.